About
The Functional Medicine Pharmacists Alliance is the first association representing pharmacists in functional medicine. 
FMPhA supports members practicing functional medicine across all pharmacy settings by uniting leaders in the field to provide continuing education, business training, networking, events, and advocacy.  We believe
 that 'a pill for every ill' is not the solution to chronic disease. Pharmacists are the most accessible yet underutilized healthcare provider, which perfectly positions us to be the functional medicine experts of our local communities. FMPhA advocates at the national level to give pharmacists a seat at the functional medicine table while promoting the value of integrating functional medicine into the pharmacy profession. 
Our History
April 17, 2017: Functional Medicine Pharmacists Facebook Group was created
August 25, 2017: Functional Medicine Pharmacists Alliance was established
September 8, 2018: First official FMPhA Meetup at the Functional Pharmacy Symposium in Chicago, IL
May 3, 2020: New FMPhA website launched offering Membership for the first time
April 21, 2022: IFM adds Pharmacist degree type to Find A Practitioner tool
Our Mission
As the first organization for pharmacists in functional medicine, FMPhA seeks to unite pharmacists, patients, practitioners, and organizations in our mission to integrate pharmacy and functional medicine. 
Our Vision
FMPhA's vision is to make functional medicine the standard of care through pharmacist-led clinical services.
FMPhA believes in collaboration over competition. Our goal is to unify pharmacists in functional medicine to work together to bring functional medicine into the mainstream. If you believe in the power of functional medicine to transform patient care, and you can see its potential to transform our profession, then we invite you to become a Member and be part of the Alliance. 
FMPhA believes that there is no one size fits all approach to learning and practicing functional medicine. Each practitioner brings their own unique approach that only they can offer in order to meet their patients where they are. Likewise, we recognize that each pharmacist is on their own functional medicine journey, and when we can share our knowledge and be of service to others, we all move faster and farther together. Thus, we seek to create an inclusive and diverse community, where each pharmacist can find the education, training tools, resources, and connections they need to succeed.
Values
Ambitious: we will revolution the profession of pharmacy through the power of functional medicine
Cohesive: when we focus on the shared vision, we can move in solidarity together
Collaborative: we work together towards our common purpose
Collective: there is strength in numbers; it will take all of us to shift the paradigm
Community: we are the home for pharmacists in functional medicine; you have found your tribe
Diversity: everyone brings something unique to the table
Inclusivity: everyone has a seat at the table
Integration: pharmacy and functional medicine work better together
Unity: we are stronger together than we are apart 
A Letter from the Founder:
Hello!
I'm Lauren and I'm the founder of the Functional Medicine Pharmacists Alliance and creator of FMPhA.org. What started as a small Facebook group for FM pharmacists to keep in touch after my first functional medicine CE presentation quickly grew to the largest online network of Functional Medicine Pharmacists, and we needed a home! FMPhA was created in 2017 as a way to bring pharmacists together who had an interest in functional medicine, but I wanted it to be more than just another pharmacists association. It needed to be a movement, a coalition, an alliance: "An alliance is a relationship among people, groups, or states that have joined together for mutual benefit or to achieve some common purpose. Members of an alliance are called allies."
So if you've found this page, please know that you are right where you are supposed to be in this moment! Check out the blog for free resources, sign up for the newsletter for major announcements, and follow us on social media to stay in the know about all things FMPhA! And when you're ready to take that next step in your functional medicine journey, consider becoming an FMPhA Member. We are constantly working to bring more value into the membership every day, from discounts on continuing education, to networking in our state chapters, to events to connect with members, or even the opportunity to join a cross country team of pharmacists who practice functional medicine online! There is something for everyone, and we can't wait to see you inside the Alliance!
PS – If you'd like to read more about my personal journey to functional medicine, you can do so here!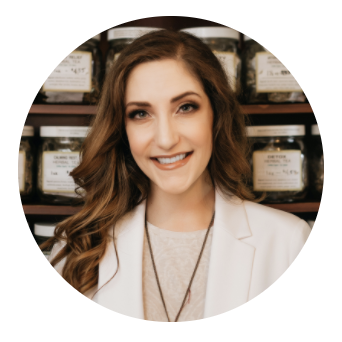 In Health,
Lauren Castle, PharmD, MS
FMPhA, Founder