Read more below for a recap on how The American Academy of Anti-Aging Medicine 29th Annual World Congress. It was Lauren's first time there and it was amazing!
The American Academy of Anti-Aging Medicine (A4M) delivered the integrative medical event of the year: the 29th Annual A4M World Congress, taking place in Las Vegas, NV, December 9-12, 2021. The congress was themed The Next Chapter: Unmasking the Hidden Epidemic and featured insights on the latest advances within medicine as well as provided a spotlight on many of the neglected crises within healthcare including brain health, underserved patients populations, and environmental health. The event featured a world-class lineup of speakers presenting on the most pressing topics and most innovative solutions in healthcare today.
The conference began with three pre-conference workshops, Practice Management & Marketing Power Summit, Low-dose Naltrexone: The Promise, Cannabinoid Medicine: Latest Guidance and Clinical Application.  From there, the conference we began each day with general sessions highlighting a variety of cutting-edge topics and featured a keynote presentation from one of the four announced keynote speakers; Judson Alyn Brewer, MD, PhD, Ronnie S. Stangler, MD, Sheldon Jordan, MD, FAAN, DABPN, DABCN, DABIPP, and David Perlmutter, MD. The event additionally included a collective of notable featured speakers including Ariana Huffington, Valter Longo, PhD, and Terry Wahls, MD, and more. Afternoon sessions offered the attendees the opportunity to dive deeper into a wide variety of topics, from hormone vitality, dementia and Alzheimers, solutions to healthcare disparities, environmental health, pain and addiction, psychoneuroimmunology, aesthetic treatments, and much more. 
In addition to the numerous educational opportunities, the event offered a valuable opportunity to connect with peers, industry leaders, and the largest collection of integrative medical resources, products, and services in the globe. 
With the foremost innovators and leaders in modern medicine at the forefront, the 29th Annual World Congress delivered forward-thinking insights to help clinicians confidently lead this new chapter in healthcare with the most valuable strategies, therapeutics, and resources available.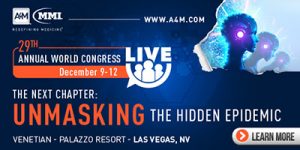 FMPhA Member Benefits in Partnership with A4M
FMPhA Members enjoy the follow benefits:
Discounted registration for December World Congress and April Spring Congress
Save $750 off each fellowship module ($1,500 vs regular price $2,250)
The American Academy of Anti-Aging Medicine offers educational modules which are good towards Fellowship or Certification. At FMPhA, we especially like A4M for pharmacists interested in longevity or bio-hacking, as well as for compounding pharmacists, since there is a large number of pharmacist members that specialize in areas such as hormones, which can be a key tool in the anti-aging realm. At the A4M meetings, you will find dozens of compounding pharmacies in the exhibit hall. There are also specific educational tracks for compounding. Top pharmacists like Sahar Swidan, Jim LaValle, and Nayan Patel are frequent presenters.
What's the difference in Anti-Aging Medicine and Functional Medicine?
AAM is typically focused on the 'biohacking' lifestyle, metabolic health, hormones, stem cells, peptide therapies, IV treatments, dermatology, and longevity. In a sense, you may have health-conscious patients wanting be even healthier! A4M definitely incorporates general functional medicine concepts into its teachings, but it is not in a structured format like a "Matrix" or "Map" as seen in other functional medicine training programs. Instead, A4M uses the concept of "Triads" to teach the interconnectedness of systems such as adrenals-thyroid-pancreas, gut-immune-brain, cardiopulmonary-neuro-vascular, liver-lymph-kidney, and estrogen-progesterone-testosterone systems.
Contrast this with FM, which is focused on reversing the root causes of chronic disease, and thus, tends to attract more complex or "sick" patients (autoimmune, gut issues, hormone issues, environmental illnesses, etc.) who may have seen multiple doctors or specialists before finally discovering functional medicine.
No matter which pathway you choose, both approaches will help improve patient outcomes and provide the fulfillment you are seeking from your pharmacy career!