40% off IFM AIC 2022 + 20 Scholarships!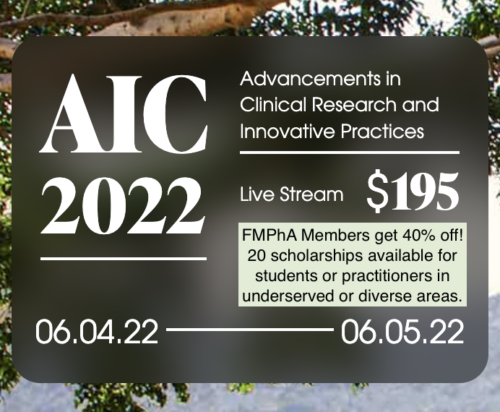 FMPhA is thrilled to announce that as a valued partner of the The Institute for Functional Medicine (IFM), we are able to offer our members a special, limited time opportunity to take part in their reimagined online
Annual International Conference (AIC)
experience this June 4-5, 2022.
IFM is providing FMPhA Members an additional 40% off of the already low $195 registration rate (codes available in Members Only page)
. This is the best clinical content available at the best price ever offered. Together we can elevate practice of functional medicine across the world.
In addition, IFM is offering 20 scholarships for free registration for FMPhA Members who are practitioners or students working in underserved and diverse settings, in order to extend this AIC opportunity and celebrate the work they do in the transformation of health care. To apply for a scholarship, please visit the Members Only page for details. We invite all FMPhA members to apply, even if you are just beginning your functional medicine journey or still practicing in conventional settings with underserved or diverse populations that could benefits from your expanded functional medicine knowledge.
To take advantage of this offer, go to the 
AIC website
, click Register, and enter the code from your Members Only Page during checkout. AIC 2022 offers up to 7 CME credits and explores the key advances in medical research and practice that have the greatest potential for improving patient health outcomes in a variety of clinical care settings. This year, IFM is offering a more streamlined, clinically focused online live stream event featuring two half-days of clinical lectures covering the latest research findings in functional medicine as well as practical, therapeutic applications that can be implemented into practice right away.
Highlights of the AIC 2022 slate of speakers include:
• Emeran Mayer, MD: The Gut Immune Connection–And What Role Your Microbes Play in It
• Scott Shannon, MD, FAACAP: The New Paradigm in Mental Health: Brain Science, Psychedelics, and Transformational Change
• Daphne Miller, MD: Environmental Health and Regenerative Agriculture
Register now as conference recordings will only be available to those who attend the event live.
Learn more about IFM's AIC and save an additional 40% when you use the code from your Members Only Page during checkout.
We hope to see you there virtually!